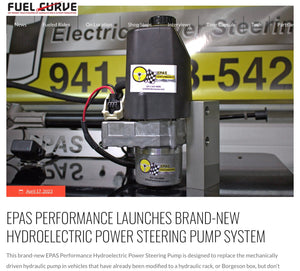 Our Hydroelectric Power Steering System featured on Fuel Curve
"This brand-new EPAS Performance Hydroelectric Power Steering Pump System is designed to replace the mechanically driven hydraulic pump in vehicles that have already been modified to a hydraulic rack or Borgeson box, but don't necessarily want to switch over from their hydraulic system when doing a modern engine swap. This system will remove considerable weight and clean up the front engine compartment by eliminating the existing power steering pump, hoses, and fan belt. This system won't be robbing the engine of power, because it is electrical not mechanical. With no more leaks or breaking, your engine will have more power to do what an engine is meant to do.
The EPAS Performance Hydroelectric Pump System works with an angle sensor on the steering column and CAN protocol. The converter talks to the pump via the angle sensor, ramping up the systems pressure as needed. When the vehicle is going in a straight line the pump is in idle mode, as the steering wheel is turned the angle sensor sends information to the computer ramping up the hydraulic pump making steering light to handle. 
The EPAS Performance Hydroelectric System includes 6' of high-pressure sending hose, 6' of low pressure return hose and power cords that are 10' in length. The wiring harness is essentially plug and play only requiring a hot ignition source and full battery power to function. The system draw is anywhere between 1Amp to 45Amps, spending most of its time in the lower amp range.
The maximum pressure of this unit is rated at 1900PSI @ 5GPM and the absolute maximum length of the pressure hose and return lines is 17'.
The EPAS Performance Hydroelectric Pump System is available now at www.epasperformance.com."
https://fuelcurve.com/epas-performance-hydroelectric-power-steering-system/
---