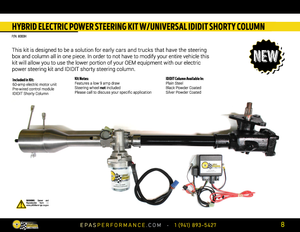 Hybrid Electric Power Steering
EPAS Performance has released a new "Hybrid" Electric Power Steering Kit that comes pre-assembled on a universal IDIDIT shorty column. This electric power steering kit is designed to be a solution for early cars and trucks that have the steering box and column all in one piece. In order to not have to modify your entire vehicle this kit allows you to use the lower portion of your OEM equipment with our electric power steering kit and the IDIDIT shorty steering column.

This kit will include a 60-amp electric motor unit, a pre-wired control module, and the IDIDIT steering column. The length of the column you need will be determined by what application this kit is going onto, so please be sure to get in contact with us to discuss specifics before ordering this kit. The columns will be available in our standard options of plain steel and black or silver powder coated.
---