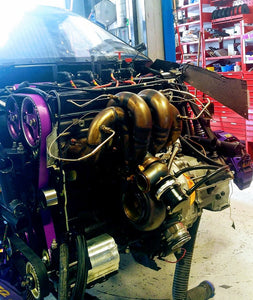 Wiborg Engine Rebuild
Engine Rebuild
The engine is finally back in the car after the rebuild with some fresh parts from CP-Carrillo that as usual went the extra mile to help us out quickly. Also big thanks to Highspeed Engines for helping out with the cylinder head on such short notice during the Swedish vacation times. 
Of course since we had the cylinder head in for renovation we took the chance to let Bjorn make some more improvements to it while he had it so we can squeeze some more power out of the engine. We have also remade the entire dry sump oil system with a new custom made tank, fittings and hoses to help the engine survive more then 20 min in the car and as usual we had Speeding - Performance parts supply us with more of their high quality An-connectors and hoses.
Soon time to hit the track again to break some more records.
---