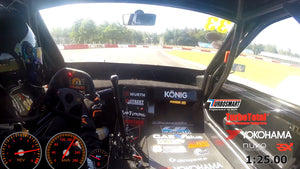 WIBORG ENGINEERING NEW RECORD
So instead of uploading the onboard of our new tintop record lap for Mantorp Park now reading 1:11:851 that was actually just a boring "step up" lap leading up to this first real attack lap of the weekend that unfortunately had to be aborted due to fuel pressure drops entering the last timing sector.
To make to make it worse on saturday morning in Q1 we had a simmiliar lap ongoing (a further 0.1 tenth faster in sector 1) that was also aborted due to the engine failure just before sector 2.
So what was the the potential speed of the 2019 spec Evo? If we compare with the 2018 lap record of 1:12:6 we were 1,1 second faster in the first sector alone and another 0,8 faster in the second. so being down 1,9 sec entering the last sector its anyone's guess what the total time would of been.
Also running on "low" 2,3 bar boost levels compared to the intended 2,9 bar for the weekend a lot of power was left unused as well as the brand new Yokohama tires and a gearcut issue with the new sequential that wasnt yet solved leaving us with having to do clutch shifts.
In racing there is no ifs and buts the time on the clock is ultimately the only thing that counts buts lets just say we will be back for 2020 to hunt that magic sub 1:10:00 laptime and it sure looks well inside our reach.
But for now we will take our new record at 1:11:851 and the fact that we are the fastest car ever to run at Mantorp.
---